Free Inquiry #3: Backhand, the Best hand?
So for my first post about skills I thought it a no brainer to look at the throw most people start with, the backhand.
But before I get into that I have someone to introduce: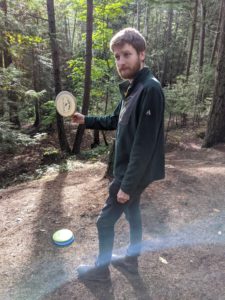 This is Mike. He is my friend from the Primary Education Program and my personal disk golf guru. We consistently play up at the Millstream Disk Golf Course. He will be making lots of appearances throughout my posts as I tend to take more pictures of him than myself.
The Backhand:
The big thing to remember with a back hand throw is that it will curve towards to one side at the end of the throw (above). For right-handed people a backhand throw will curve to the left. For me (a southpaw thrower) these will always curve to the right, unless a very fancy disk is used.  I found out quite early on that when making a backhand throw you must:
throw the disk levelly (this allows the disk to glide)
you must adjust for the curve of the disk
you if you aim too high the aggressiveness of the curve is increased
My biggest issue with this particular throw is the power-to-accuracy ratio. I am able to get the disk to fly a fair distance, but at the expense of any sort of precision. This is unfortunate because the power doesn't mean much if it goes 90 degrees off of where the intended direction was. Mike told me that the secret to a good backhand throw is getting a little snap of the wrist which gives the disk more spin than if you just throw with your arm. This is something I will need to practice in the coming weeks.